Yes, they are growing, not only in size but also in number.  We were blessed to have eleven today to enjoy Reverend Ed's young disciple's sermon, starting from age 2 on up!  They are in the front row every week, soaking in the wisdom of the Word to take with them every day.  Reverend Ed is wonderful with them, engaging even the youngest little one in praise with "we did it!" and clapping at the end.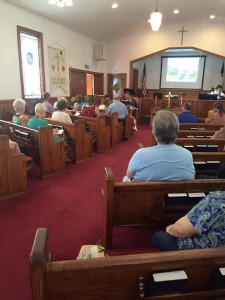 Today we learned that Jesus searches for even one little lost sheep, one coin, and one sinner no matter how the establishment mocks Him.
 1Then all the tax collectors and the sinners drew near to Him to hear Him. 2 And the Pharisees and scribes complained, saying, "This Man receives sinners and eats with them." 3 So He spoke this parable to them, saying:
4 "What man of you, having a hundred sheep, if he loses one of them, does not leave the ninety-nine in the wilderness, and go after the one which is lost until he finds it? 5 And when he has found it, he lays it on his shoulders, rejoicing. 6 And when he comes home, he calls together his friends and neighbors, saying to them, 'Rejoice with me, for I have found my sheep which was lost!' 7 I say to you that likewise there will be more joy in heaven over one sinner who repents than over ninety-nine just persons who need no repentance.
8 "Or what woman, having ten silver coins, if she loses one coin, does not light a lamp, sweep the house, and search carefully until she finds it? 9 And when she has found it, she calls her friends and neighbors together, saying, 'Rejoice with me, for I have found the piece which I lost!' 10 Likewise, I say to you, there is joy in the presence of the angels of God over one sinner who repents."