"We have this treasure…" #ShineAlready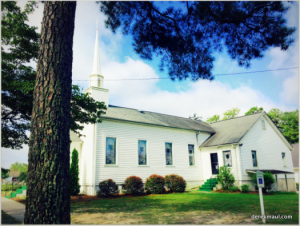 For we do not proclaim ourselves; we proclaim Jesus Christ as Lord and ourselves as your slaves for Jesus' sake. For it is the God who said, "Let light shine out of darkness," who has shone in our hearts to give the light of the knowledge of the glory of God in the face of Jesus Christ. But we have this treasure in clay jars, so that it may be made clear that this extraordinary power belongs to God and does not come from us. – 2 Corinthians 4:5-7
Sunday morning I had a really great experience that did a lot to give me hope, and keep this crazy messed-up world in perspective. In other words, I attended worship at a Christian church.
Once in a while people actually read my books and then I get invited to speak; this time it was at a little country church in Willow Spring, about 40 miles south of Wake Forest, near Fuquay Varina on the other side of Raleigh.
When I was planning my message, I couldn't get the "We have this treasure in clay jars" idea out of my head, so I used the entire 2 Corinthians 4 chapter as my text, and talked about the opportunity – and the responsibility – we all have to put our treasure to good use.
After I read the scripture, and before I started to share what was on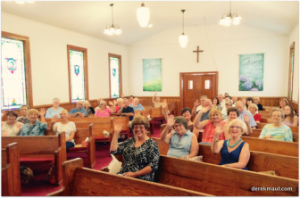 my heart, I said, "You all need to know that one of the things I do is to write a daily blog. I try to reflect on what God is teaching me on an ongoing basis, and there's a strong likelihood that you are going to be featured in the next couple of days. So…" (and here I pointed my iPhone at the congregation), "smile and wave at the camera!"
Then I shared what was – I trust – twenty minutes or so of encouragement. Here are the first couple of paragraphs:
Good morning! It's great to be here with you today. I'm always torn when I receive invitations to speak – because on the one hand I absolutely love to worship with my faith community in Wake Forest… and on the other I feel a compelling calling to share good news and encouragement with anyone who is willing to listen.
Fact is, there seems to be such an epidemic of bad news in the world – both foreign and domestic – that it's all too easy to get sucked into a negative frame of mind. So I always make it a point to remind people – both readers and listeners – that:
1. Light always defeats darkness, that…
2. Good will always overcome evil, that…
3. The work of the church is – always – that of "The Exhibition of the Kingdom of Heaven to the World"… and that…
4. We (that's you, and me) are called to be God's consistent and compelling message of hope, and redemption, and promise, and peace, and reconciliation… That's our job, as Christian men, women, and children.
This morning I still have a smile on my face, because my experience at White Memorial Church in Willow Spring reminded me that the Body of Christ is alive, well, and active in small communities of faith scattered all over this land.
Here are good people who gather for worship every week, and who invite Jesus to be their guide and friend day by day.
Obviously we all need to grow as faithful disciples, and there is a lot that needs to be done in terms of translating life in Christ into a more functionally missional orientation to the community around us. But this little church, like so many countless others, stands as a testimony to the faithful heart of the people of God.
And that is good news to hear on this Monday morning!
Peace and blessings to all – DEREK
From Derek's blog at:
https://derekmaul.wordpress.com/2016/07/18/we-have-this-treasure-shinealready/